2009 Easy Kids Recipes
Halloween Recipe Contest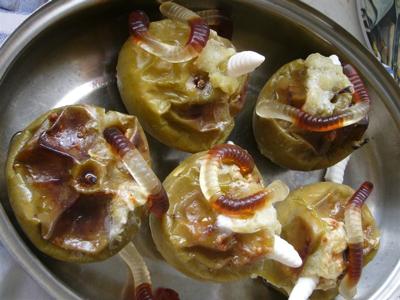 Rotten Apples Halloween Recipe, First Place Winner
* Thanksgiving Recipe Contest - Win a $50 Gift Card! *
* Christmas Cookie Recipe Contest - $200 in Prizes to be Won! *

The 2009 Halloween recipe contest has closed.

Congratulations to the Halloween recipe contest winners! First prize winner receives a beautiful 10 piece stainless steel cookware set. Second and third prize winners receive a wonderful holiday cookbook and apron. The winners are:
First Place: Rotten Apples Recipe by Rachel Upton of Christchurch New Zealand.

Second Place: Halloween Spiderweb Apples Recipe by Holly Quinn of Willmington, Delaware, USA.

Third Place: Candy Corn Style Taco Pockets by Ashley of Anderson, Indiana, USA.


Halloween Recipes
Click on the links below to see the full recipe and add your comments.

2010 Halloween Recipe Contest

More Halloween Recipes

Easy Kids Recipes home page