Rotten Apples
by Rachel Upton
(Christchurch, New Zealand)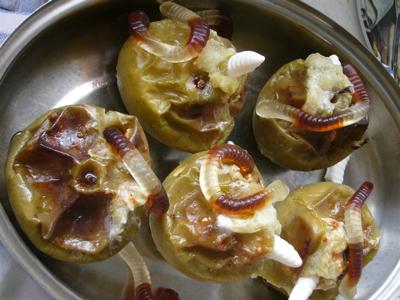 Rotten Apples with Worms and Maggots
These Spooky Rotten Apples look disgusting but taste delicious. They're a hit for Halloween.


Ingredients:
*Granny Smith apples
*Maggot sweets (or similar)
*Gummy worms
*Sultanas and orange juice if you want
You will need a casserole dish and apple corer.
Core apples part way through. Keep center core to put back. Fill center hole with brown sugar (and a few sultanas if you want).
Poke a few holes with a skewer wide enough to insert worms and maggots later. Shorten removed core tops and place back in center of apples.
Place all apples in casserole tin and cook til shriveled and squishy but still holding their shape. Carefully remove from oven and cool. Insert worms and maggots into the now squishy holes.
Serve in same tin with a little orange juice poured around.
Click here to find more recipes on the Easy Kids Recipes website.