Socks, Our Tortoise Shell Cat:
Meet Our Cute Kitten
Meet our cute kitten, "Socks." She's a beautiful 10 month old tortoise shell cat. We named her Socks because she has cute little white feet, she loves to play with Therese's purple socks, and she slides across our back deck like she has socks on.
Here are a few cute pictures of Socks.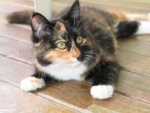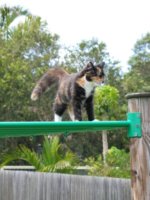 Please Share Your Cat and Kitten Advice
Do you have some advice about feeding kittens and cats? Please share your advice and tips. Or just say "hi" to Socks.
Cat and Kitten Advice from Other Visitors
Click below to see comments from other visitors to this page...



Cat food recipes

More pet food recipes

Easy Kids Recipes home page