Bloody Graveyard Cake
by Rachel Upton
(Christchurch, New Zealand)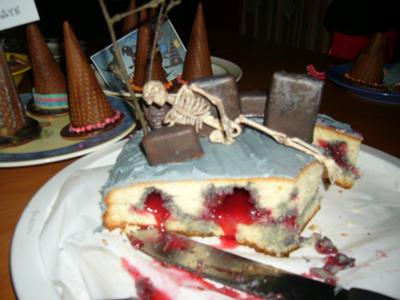 Grave Yard Cake
This cake was really easy and looks great when we cut it with a big knife. Blood (sauce) oozes out. A real hit at Halloween parties.


Ingredients:
1 packet vanilla cake mix
powdered sugar (icing sugar) and water
food coloring
raspberry sauce
1 plastic skeleton
Make cake according to box instructions. Cool and slice into two halves, top and bottom, or make two cakes.
Scoop out a few holes in bottom layer (don't go right through). Make gray icing (icing sugar and water) - not too runny.
Spread some icing on underside of top cake half and let harden. Spread a little icing in the holes you made on bottom cake half just to seal the hole but not fill it - let harden. Fill holes with raspberry sauce (I bought ice cream sauce).
Place top cake layer on top of bottom and cover whole cake with icing. It doesn't have to be perfect - its a graveyard. Add tombstones (chocolate bars cut in lengths - use what you think would look like good tombstone shapes, this will depend on what country you live in and what bars you have).
Add a small twig out of the garden for a tree (make sure it is pretty clean). Add a plastic skeleton (mine only had one leg so I made him look like he was coming out of the ground).
Have a spooky time!