Chocolate Chip Muffins
by Fatima, age 11
(Lahore, Pakistan)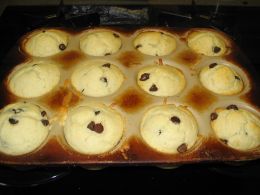 Try this recipe. Makes for some really great muffins.


Ingredients:
2 cups all-purpose flour (32 tablespoons)
½ cup sugar (8 tablespoons)
1 tablespoon baking powder
½ teaspoon salt
1 egg
¾ cup milk (12 Tablespoons)
1/3 cup vegetable oil (5 Tablespoons and 1 teaspoon)
½ cup chocolate chips (8 tablespoons)
Method:
In a large bowl combine the flour, sugar, baking powder and salt. In a small bowl beat the egg, milk and oil. Pour into the dry ingredients and stir just until moistened. Half a cup of chocolate chips are to be stirred in at the end. Fill greased or paper-lined muffin cups three-fourths full and bake 18-20 minutes. This makes one dozen muffins.
Serves 12 people.