Yummy Banana Smoothie
by Marwa M.
(Senegal)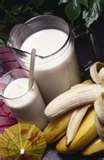 This is how your smoothie should look. Yummy!


2 bananas
1 cup mlk
1/2 cup sugar
Instructions:
Peel the bananas on a plate. Add them to the blender. Add 1 cup of milk, then add the 1/2 cup sugar. Blend for 10 seconds.
Serves 2.
Enjoy!
Join in and write your own page! It's easy to do. How? Simply click here to return to Submit your Favorite Recipe.