Yum Yum Pie
by Donna Windham
(Dothan, Alabama, USA )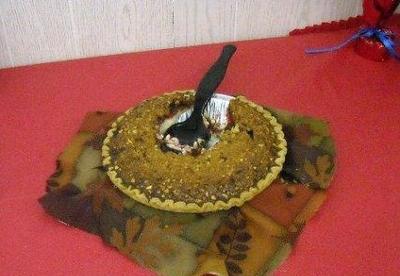 This recipe was originally my grandmother's cream cheese and pecan pie recipe. My son's love for peanut butter and jelly sandwiches prompted me to revamp the original. After lots of testing we decided that we couldn't have peanuts without chocolate :)




The recipe name actually came from my son who always asks if we can have the "yum yum" pie.

Ingredients:

1 unbaked 9-inch deep dish pie shell
1 8-ounce package cream cheese, at room temperature
1/3 cup sugar
1 egg
1 teaspoon vanilla extract
1/4 teaspoon salt
1 can cherry pie filling
1 cup semi sweet chocolate chips
1-1/2 cups chopped peanuts
1 cup light corn syrup (Karo)
1/4 cup sugar
3 eggs, beaten well with a fork
1 teaspoon vanilla extract

Preheat oven to 350°F (180°C).

Combine the cream cheese and 1/3 cup sugar in a bowl. Beat at high speed with an electric mixer until fluffy. Add 1 egg, 1 teaspoon vanilla and 1/4 teaspoon salt. Blend well. Pour into the pie shell.

Spoon pie filling over cream cheese mixture.

Melt chocolate chips and pour over pie filling layer; making sure to completely cover.

Sprinkle the peanuts evenly over the chocolate layer.

Combine the corn syrup, 1/4 cup sugar, 3 beaten eggs and vanilla, mixing well. Carefully pour mixture over the pecan layer. Bake at 350°F for 35 to 40 minutes or until set. Allow to cool completely, then refrigerate for 2 to 3 hours before serving.



Return to 2010 Thanksgiving Recipe Contest.