White Chocolate Craisin® Nut Clusters
by Teneil
(Sandy, Utah, USA)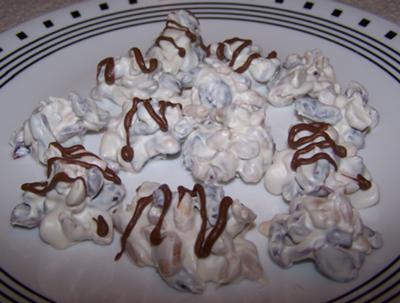 White Chocolate Clusters with Drizzled Milk Chocolate
My mother was dipping strawberries and had left over white chocolate. Being the creative soul she is, she opened up the baking cupboard and started pulling out ingredients that might compliment the chocolate. She ended up with dried cranberries and peanuts. She dumped them into the bowl to use up the left-over chocolate. The result was fabulous. We now make these treats first and use the leftover chocolate for the dipping!


6 ounces white chocolate (about 1 cup if using melts or chips)
½ cup Craisins®
½ cup dry roasted unsalted peanuts
milk chocolate for drizzling
In a microwave-safe bowl, microwave the chocolate for 2 minutes, stopping every 30 seconds to stir.
When smooth and melted, add the Craisins® and the peanuts. Mix until all the pieces are evenly coated.
Spoon 1 inch clusters onto wax paper. If desired, drizzle with melted milk chocolate.
I melted the milk chocolate in the microwave, put it into a baggie and snipped a corner off to drizzle the tops.
Let set for 30 minutes or until chocolate is firm.
Makes 24 clusters.