Wacky Stacky Wontons
by Amy Angelo
(Pennsville, New Jersey, USA)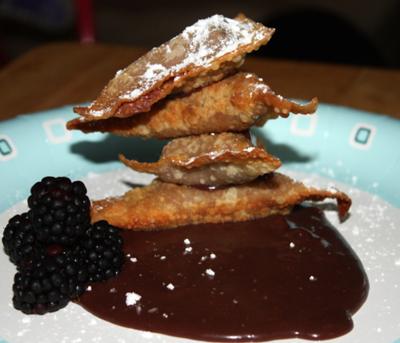 Wacky Stacky Wontons with Chocolate Dipping Sauce and Fresh Blackberries

This is a kid friendly recipe! It's an easy recipe to make and only uses a few ingredients!




The inspiration for this recipe came to me out of chocolate necessity. My son wanted something chocolaty to eat for an after-dinner snack, so I looked around and started putting ingredients together! I needed something fun and filled with chocolate. Wacky Stacky Wontons were born! They are now a Sunday night tradition!

My 5 year old son helps to stir the filling, wet the wontons, count the chocolate chips, stir the dipping sauce, and the best part of all.....stack the wacky wontons as high as he can. It's also a great way to get him to eat fruit!

Ingredients:

1 package of wonton wrappers
1 8-ounce block of cream cheese (softened)
1 (12-14 ounce) bag of milk chocolate chips
3/4 cup of heavy cream
2 teaspoons of unsweetened cocoa powder
4 teaspoons of confectioner's sugar
canola or vegetable oil to fry in
fresh fruit of any kind (I used blackberries in the picture)

Make your wonton filling:

In a medium bowl mix your cream cheese with the cocoa powder and confectioner's sugar until smooth. Add in a handful of chocolate chips (I used about 60 chips). Mix well and set aside.

Make your chocolate dipping sauce:

In a small bowl, empty the remaining milk chocolate chips into the bowl. Heat 3/4 of a cup of heavy cream in the microwave for 1 minute.
Pour heated cream over the

chocolate chips and let sit for a minute. Mix the chips and cream to melt the chips and mixture is smooth. Put in refrigerator to thicken up. Stir after 10 minutes.

Fill your wontons:

Place a wonton wrapper in front of you so that the wrapper looks like a diamond with a point sticking upwards. Put a bit of filling (about a teaspoonful) in the center of the wrapper. Wet the edges of the wrapper with a bit of water. Fold the wrapper in half forming a triangle and seal the edges by pressing the edges together. Make sure you don't over-fill the wontons or you will have a big mess on your hands!

Fry your wontons:

Place in hot oil (vegetable or canola) and turn after a minute or so. Pull them out of the oil when they are a light golden color and drain on some paper towels.

Stack your Wacky Wontons:

Place a puddle of dipping sauce (yes, it is so yummy you will want a puddle of it!) on your plate. Add a wonton on top of the puddle. Then put a dab of dipping sauce on top of the wonton and then stack another wonton on top of that. Go as high as you want alternating wonton and sauce.

Once your tower is complete, sprinkle with confectioner's sugar and whatever fresh fruit you have. Trust me, you will be tearing your kitchen apart to find something to dip into the dipping sauce!