Veggie Powered Pierogi
by Annie
(Emden, Il, USA)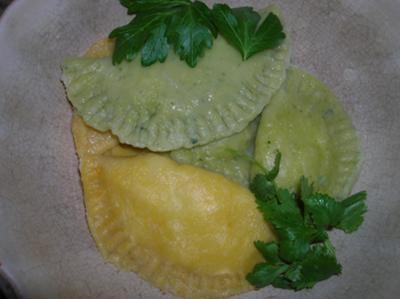 Traditionally shaped squash pierogi
What do you get when you mix a traditionally Polish grandma with a veggie lovin mom? Veggie Pierogi!


This recipe is great for hiding veggies and excellent for stretching your food dollar. Traditionally Pierogi are filled with mashed potato or cheese. We stuff ours with whatever leftovers we have in the fridge, or more veggies! This is sure to be a family favorite so be sure to make enough to freeze for a quick dinner any night of the week.
Ingredients:
2 cup flour (all purpose,spelt,or whole wheat)
2 eggs
1/2 teaspoon salt
1/2 cup mashed veggies (beets,zucchini,or butternut)
1. Mound flour and make a well in the center.
2. Drop eggs and salt into well. Add mashed veggie. Work mixture together with your hands and knead until.
dough is firm and well mixed.
3. Cover dough with a warm bowl; let rest 10 min.
4. Divide dough in halves. On floured surface, using half of dough at a time,roll dough as thin a possible.
5. Cut dough with a biscuit cutter (cookie cutters if you want special shapes).
6. Place small spoonful of filling (leftover potatoes,veggie mash,cheese,meatloaf) Seal dough by forking the edges.- note you may need to use a bit a water if dough is dried out.
7. Drop pierogi into boiling salt water. cook gently 3 to 5 min, or until pierogi floats. Lift out of water with perforated spoon. Never put too many pierogi in cooking water at one time-they will stick together or get lumpy and tough.
** If you are freezing pierogi to be used at a later date, put in freezer before step seven. Pierogi can be pulled out of freezer and used as specified in step 7.