Turkey Feather Twists
by Lori Fillmore
(Rigby, ID, USA)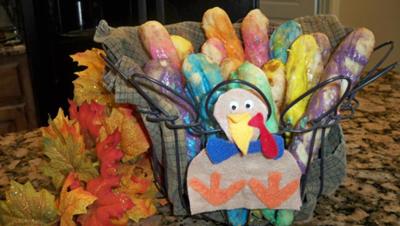 Stack the colorful feather twists in a basket for a beautiful and fun presentation.
When I was put in charge of bringing the rolls to Thanksgiving dinner this year, I wanted to add a "twist" to make them fun for the kids. These Turkey Feather Twists proved to be a perfect whimsical and colorful centerpiece for our Thanksgiving table. Unfortunately, they don't last long as they are also delicious!


Ingredients:
Refrigerated or frozen bread stick dough (or your favorite bread stick recipe), enough for 12 bread sticks
2 tablespoons butter, melted
1/4 cup sugar
1 teaspoon cinnamon
Glaze:
1 1/2 cups powdered sugar
2 tablespoons butter, softened
2 1/2 tablespoons milk
1/4 teaspoon vanilla
Food coloring
Colored sprinkles (optional)
Directions:
1. Preheat oven to 350F (180C) degrees.
2. Prepare bread sticks according to package directions, or if using your own recipe make bread stick dough and shape into 12 long bread sticks, but don't bake yet.
NOTE: I used 12 portions of frozen roll dough. I let the portions thaw for 2-3 hours and then rolled into uniform size bread sticks.
3. Pour melted butter into a pie tin or a shallow baking dish. Mix sugar and cinnamon in a separate pie tin or baking dish. Dip each bread stick first into the butter, making sure to coat evenly, and then into the cinnamon sugar mixture.
4. Twist each bread stick from both ends, until you have twisted them to your satisfaction. Lay bread sticks on a greased cookie sheet.
5. Bake for 15 minutes.
6. When the bread sticks have cooled, prepare glaze mixture. Pour powdered sugar, butter, milk, and vanilla into a mixing bowl and mix until well blended.
7. Pour glaze into small bowls, one for each color of feather desired. Add drops of food coloring to tint glaze and stir until well blended. Evenly coat each Feather Twist with tinted glaze and add colored sprinkles if desired.
NOTE: I chose to do six colors: blue, pink, purple, orange, yellow, and green.
SUGGESTIONS FOR SERVING:
Put the colorful Turkey Feather Twists in a fun serving basket. Make a turkey face out of construction paper, a coloring page, craft foam, or felt and attach it to the front of the basket.
You can also lay the feathers on a plate and add a fun turkey face on top of the plate.
Don't forget to let your kids help make and arrange the Turkey Feather Twists. It provided a fun and memorable activity for me and my kids!