Triple Chocolate Muffins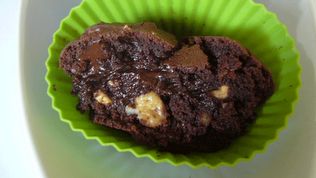 triple chocolate muffins with chocolate chips and walnuts
These chocolate muffins are gooey and delicious on the inside, and easy to make.


3 squares Baker's unsweetened chocolate
3 squares Baker's semisweet chocolate
¼ cup butter
½ cup all-purpose flour
½ teaspoon baking powder
¼ teaspoon salt
2 eggs
½ cup sugar
1 teaspoon vanilla extract
1 teaspoon instant coffee
½ cup mini chocolate chips (you can use white chocolate chips if you like)
½ cup chopped walnuts
Preheat oven to 350F degrees (180C).
1 - Melt together in double boiler or in microwave the butter and chocolate squares. Let cool.
2 - Mix together the dry ingredients and set aside.
3 - In the largest bowl, mix eggs, sugar, vanilla and coffee, until the mixture is light and has almost doubled in volume.
Add the melted chocolate.
Incorporate dry ingredients.
4 - Add mini chocolate chips and nuts.
The mixture will be thick and sticky.
Pour into buttered muffin pan. With a wet finger, smooth the top of each muffin.
Bake approximately 15 minutes. Do not overcook, the center should remain soft, almost like a chocolate fondant. The technique of toothpicks is not reliable here. It is cooked until the muffin tops are dry and cracked.
This makes 6 big muffins.