Thin Mint Cookies
by Brianna D.
(Belding, Michigan, U.S.A.)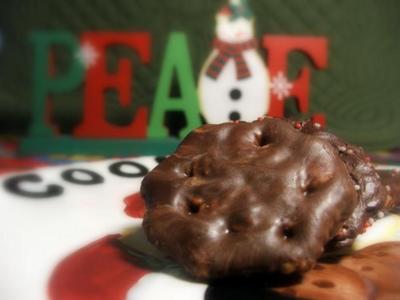 Thin Mint Christmas Cookies
A DELICIOUS treat, that is FUN and EASY to make! They taste just like Girl Scout cookies! And they take only 10 minutes to make!


Ingredients:
1 cup Andes Mint Chips
Ritz Crackers
1/8 teaspoon Peppermint Extract (optional)
Sprinkles
1. Line a cookie sheet with wax paper. Set aside.
2. Put Andes mint chips into a microwave safe bowl. Melt for 20 to 30 seconds or until smooth. Add peppermint extract (optional). Stir.
3. Dip both sides of the Ritz crackers into the chocolate. Set on lined cookie sheet. Then put sprinkles on top.
4. After you are done, put the the cookies into the freezer for 5 minutes. Take them out and enjoy!