Thanksgiving Empanadas
by Thalia Patillo
(Bronx, NY, USA)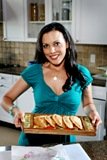 Make delicious and healthy empanadas using the extra turkey at Thanksgiving. These will be gobbled up quickly!


EMPANADA FILLING INGREDIENTS:
Extra virgin olive oil for sautéing
1½ pounds of chopped turkey
4 pineapple ring slices, well drained, and finely chopped
½ tablespoon of adobo seasoning (according to taste)
Salt and pepper light sprinkle
¾ cup of sofrito liquid stock base
¾ cup of tomato paste
1/3 cup of finely diced onion
1 tablespoon of freshly minced garlic (or more if you like)
2 tablespoons of finely finely diced sweet red pepper
¼ cup of finely diced waxy red potato
2 tablespoons of freshly chopped cilantro
24 ounces canola oil for frying
10 large or 15 small round empanada shells (found in your grocer's freezer or purchased at a bakery)
FILLING PREP:
Sprinkle the turkey with adobo, salt, and pepper. Mix together with hands.
In a large skillet heat 1 tablespoon of olive oil on a low flame.
Add meat, sofrito, and tomato paste to the skillet. Break up the meat thoroughly with a wooden spoon or spatula.
After meat is fully broken up, add onion, garlic, potato, and red pepper. Continue breaking up and browning mixture. Cook for about 30 minutes or until mixture is fully cooked then add the cilantro.
Drain excess liquid and move mixture to a mixing bowl. Add diced pineapple and mix well with a wooden spoon.
FRYING EMPANADAS:
In a large skillet heat 24 ounces of canola oil.
If you're using small empanada shells place 2 heaping tablespoons (3 tablespoons for the larger shells) of the mixture into the center. Fold the dough over and seal it using a fork to crimp the edges. Repeat this process for all of your empanadas and place aside without letting them touch one another.
Heat oil until it sizzles when you test it by dipping a corner of a completed empanada in it.
Fry each empanada for approximately 3 minutes on each side. Don't crowd the pan. Make sure your empanadas are not touching each other while frying. Remove when golden brown on both sides. Remove from pan and drain well on paper towels!
THE STORY OF MY RECIPE...
This is the time of year when we all have lots of leftovers and it's always been my mission to create dishes with authentic "sabor" with healthy, fresh ingredients. So, I started putting different things together in the kitchen and came up with this one. Hope you enjoy it!