Tandoori Chicken
by Komali Manugula
(Florida, USA)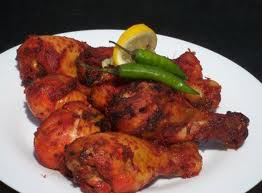 This is very tasty to eat and easy to cook Tandoori Chicken recipe.


Ingredients:
8 chicken drum sticks
2 tablespoons yogurt
1 lemon
1 teaspoon chili powder
1 teaspoon cumin powder
1 teaspoon coriander powder
salt to taste
2 drops red food color
2 teaspoons ginger garlic paste
1/2 teaspoon clove,cinnamon and cardamom powder
2 teaspoons cooking oil, optional
Method:
Put some marks on chicken with knife. Now marinade the chicken with all the ingredients for over night.
Preheat oven to 400F (200C) degrees. First for 10 minutes bake chicken and later put on grill for another 15 to 20 minutes. You can check with fork for nice color to make sure it's done.
Once the chicken is ready, you can serve with white rice and some salad, and squeeze some lemon juice on it.