Sweet Potato Casserole
by Kyleigh Baltz
(Lexington, Indiana, USA)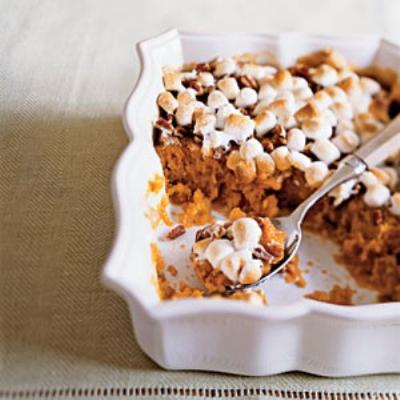 This sweet potato recipe makes the perfect addition to your Thanksgiving table. Kids will eat it up!


Ingredients:
2 1/2 pounds sweet potatoes, peeled and cut into 1 inch cubes
3/4 cup brown sugar
1/4 cup butter, softened
1 1/2 teaspoons salt
1/2 teaspoon vanilla extract
1 cup pecans, finely chopped
1 cup miniature marshmallows
Instructions:
Preheat oven to 375° F (190° C).
Place the sweet potatoes in a Dutch oven, and cover with cold water. Bring to a boil. Reduce heat, and simmer for 15 minutes or until very tender. Drain; cool slightly.
Place potatoes in a large bowl. Add sugar, butter, salt and vanilla. Mash sweet potato mixture with a potato masher. Scrape potato mixture into an even layer in a baking dish coated with cooking spray. Sprinkle with pecans and marshmallows. Bake at 375° F for 25 minutes or until golden. Serves 8.