Stuffed Giant Pasta Shells
by Lena
(U.S.A)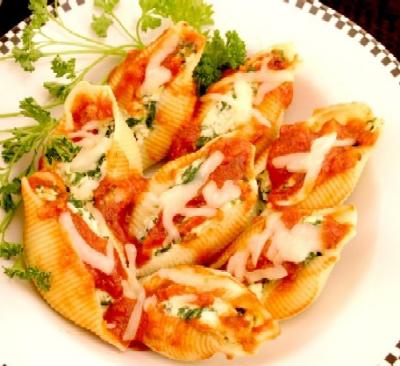 These pasta shells look messy but are very delicious!
You will love these stuffed giant pasta shells topped with lots of cheese.


1 pound ground chuck beef
1 large onion, chopped
1 clove garlic, crushed
8 ounces Mozzarella cheese, shredded
1/2 cup Italian dry bread crumbs
1/4 cup parsley
1 egg
Salt and pepper
18 giant shells, partially cooked
2 (15-ounce) jars spaghetti sauce
1/4 cup dry red wine vinegar
1/2 cup grated Parmesan cheese
In a pan, brown chuck, onion and garlic; drain. Stir in cheese, crumbs, parsley, and egg. Stuff shells. Spoon 1/4 of the sauce in a 9 X 13 inch pan.
Place 1 layer of shells and spoon the rest of the sauce over; sprinkle with grated cheese and bake at 400 F (200 C) degrees for 25 minutes. Serve with added grated cheese.