Somen Noodle Sushi Rolls
by Jenn Fujikawa
(Los Angeles, CA)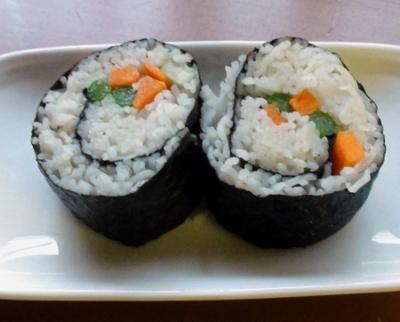 somen noodle sushi rolls
Somen are very thin, white Japanese noodles made of wheat flour. Instead of white rice, somen noodles are used for this sushi recipe. Try these delicious somen noodle sushi rolls with dipping sauce.


Ingredients:
2 bundles somen noodles
4 nori sheets (seaweed)
thin asparagus
cucumber sliced thin
carrot sliced thin
Sauce ingredients:
2 Tablespoons sugar
1 Tablespoon sesame oil
1 Tablespoon rice wine vinegar
2 Tablespoon soy sauce
1 teaspoon mirin
Stir together all the sauce ingredients, set aside.
Boil somen noodles for just 2 minutes – rinse and drain.
Separate the somen out into portions (4 nori sheets, 4 portions). Lay out a sheet of plastic wrap (this will help you roll) and put down one nori sheet, then spread out one portion of noodles.
About half of the way along the length of the nori/somen, lay the filling: asparagus, cucumber and the carrot.
With the help of the plastic wrap, roll tightly, and the stickiness of the noodles will make the roll stick to itself.
Once it is rolled tightly, wrap in plastic wrap and keep it in the fridge for an hour or so until you are ready to serve. Using a sharp knife, cut straight down and into even slices.
Combine the sauce ingredients and use it to dip your noodle 'sushi!'