Shaped Chocolate Cookies
by Sara
(Mayfield, NSW, Australia)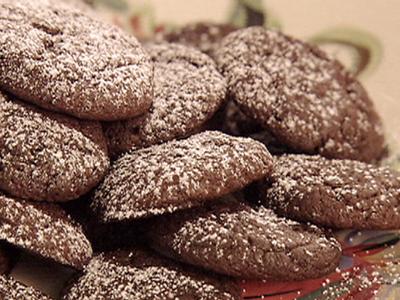 Chocolate Cookies Dusted with Icing Sugar
I learnt this recipe at school in Food Tech. Usually I would dust the cookies with icing sugar, but you don't have to if you don't want to. It is quick and easy. You can make them for a quick party or as a snack to school/work.


Ingredients:
65 grams (1/3 cup) margarine
1/4 cup caster sugar
1/2 cup plain flour
1/3 cup self raising flour
2 tablespoons cocoa
1-2 tablespoons milk
icing sugar (confectioner's sugar) for dusting (optional)
Method:
1) Preheat oven to 350F (180C) degrees.
2) Grease trays.
3) Beat butter and sugar till light and creamy with blender. Scrape mixture from sides of the bowl with a plastic plate scraper.
4) Sift the flours. Add sifted flours , cocoa and milk to the mixture.
5) Stir with knife until dough is soft.
6) Turn onto lightly floured bench. Knead for 1 minute until smooth.
7) Roll dough thinly.
8) Cut into shapes with cookie cutters (any shape you want). Place on tray.
9) Bake for 15 minutes.
10) Cool for 5-10 minutes.
ENJOY!!!