Semolina Easter Patties
by Miss Bennat Benny
(Kerala, India)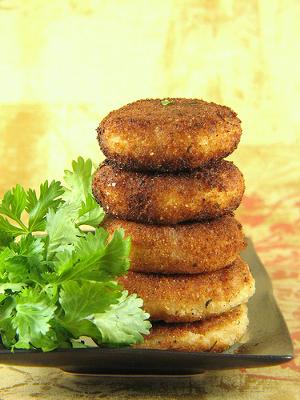 Five years ago it was a Easter Sunday. I was studying and had no idea what to cook. My only cousin's brother and his wife who is newly married visited our house. At that time I planned to make something special which they had not even heard of. I thought of several recipes and finally planned this. I was not sure whether it would be good or not. But when I made it, they really all got surprised and encouraged me, which finally made me fond of cooking!


Ingredients:
1 cup semolina
1 and half cup of milk
2 eggs
1 small carrot chopped
1 onion
1 teaspoon garlic paste
1 teaspoon ginger paste
2 green chili
A handful of minced meat
4 tablespoon butter
2 tablespoons grated cheese
Salt to taste
Oil to fry
Method:
1. Bring the milk to boil in a pan.
2. In another pan heat butter, add cinnamon and cloves. Add ginger, garlic ,green chili, carrot, eggs, minced meat, onion and sautee.
3. To this then add semolina. (Do not fry semolina.)
4. Pour the boiling milk into semolina.
5. Mix well and add grated cheese.
6. Make a ball of this mixture and give desired shape with hand.
7. Deep fry or shallow fry till they turn slightly golden/brownish.