Salami and Steak Fried Rice
by Lynne
(Hawaii)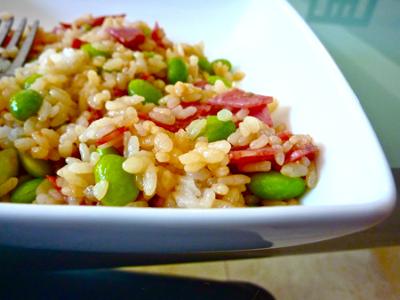 Salami and Steak Fried Rice
I love love love fried rice! And fried rice with steak and salami pieces just make it even better!


1 cup left over rice
1/4 cup edamame*
1/2 cup meat (I used left over salami and steak pieces)
1 teaspoon shoyu or soy sauce
1 teaspoon oil
salt and pepper to taste
1. Place old rice, oil, and shoyu in a frying pan.
2. Heat rice, and then add edamame and meat, and cook.
3. Place on plate, and then add salt or pepper to taste.
*Note: edamame are green baby soybeans. If you can't get this ingredient you can substitute with cooked green beans chopped up or frozen peas, cooked.