Rudolph's Tasty Treats
by Annie
(Emden, IL USA)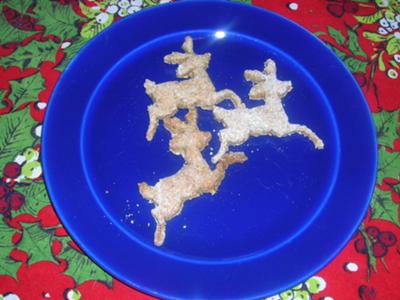 Cookies for Santa? What about the reindeer! Word has it that these are Rudolph's favorite cookies.


They are also great for man's best friend. These cookies were developed because some kids were worried that Santa's reindeer would need some help flying around the world. These cookies can be made up in a flash so be sure to leave some for the reindeer this Christmas- and don't forget to let your dog try them too!
Ingredients:
1/2 cup warm water
1 1/4 teaspoon dry yeast
1 cup chicken broth
1 egg
2 tablespoons oil
2 tablespoons honey
2 tablespoons dry parsley
2 tablespoons minced garlic
1 tablespoon wheat germ
3 cups whole wheat flour
1 cup all purpose flour
Preheat oven to 350F degrees (180C0. Dissolve yeast in warm water. In separate bowl, mix the rest of ingredients. Add dissolved yeast to mixture. Roll out onto floured surface.
Bake at 350F / 180C for 20-25 minutes. Let cookies set out to dry overnight.
Makes approximately 4 dozen. ENJOY!