Rudolph's Favorite Pumpkin Chocolate Chip Cake Cookies
by Melissa Silvis
(Raleigh, NC, USA)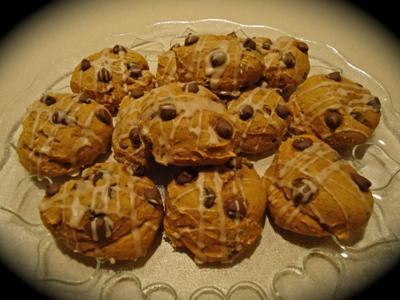 Rudolph's Favorite Pumpkin Chocolate Chip Cake Cookies!

When I bake these cookies, they literally fly off the counter! They are just perfectly moist, smell of pumpkin pie, and the chocolate chips add the finishing touch.




I got the idea to put all of these ingredients together because I figured that since I love pumpkin pie, it would probably taste great in a cookie, too. So I used the traditional spices in a pumpkin pie and folded in some chocolate chips into the batter and the cookies that came out were just fantastic.

It is more of a cake consistency in that it is light and fluffy as opposed to crispy. The cinnamon glaze on top adds an extra moistness to the cookie. They keep better on the counter or in the fridge and are just fantastic with a nice glass of cold milk!

Rudolph's Favorite Pumpkin Chocolate Chip Cake Cookie Recipe:

2 1/2 cups all-purpose flour
1 teaspoon baking powder
1 teaspoon baking soda
2 teaspoon ground cinnamon
1/2 teaspoon ground nutmeg
1/2 teaspoon ground cloves
1/2 teaspoon Kosher salt
1 stick of butter, softened
1 cup white sugar
1/2 cup brown sugar
1 can of 15 ounce pumpkin puree
1 egg
2 teaspoons pure vanilla extract
1 cup milk chocolate chips

Cinnamon Glaze:

1 cup confectioner's sugar
2 tablespoons milk
2 teaspoons ground cinnamon
1 teaspoon vanilla extract

1. Preheat oven to 350 degrees F (175 degrees C). In a small bowl, combine flour, baking powder, baking soda, ground cinnamon, nutmeg, cloves, and salt. Sift ingredients to get rid of any lumps; set aside.

2. In a medium bowl, cream together the butter and sugar. Add pumpkin, egg, and vanilla to the mixture, and beat until creamy. Mix in dry ingredients. Fold in the chocolate chips using a spatula.

3. Using a normal-sized ice scoop (not the mini), scoop out the mixture and with the back of a butter knife or spatula, scrape off the excess batter out of the top of the scoop so it is even. Drop the scoopful of batter onto a cookie sheet lined with parchment paper.

4. Bake for 14 to 17 minutes in the preheated oven. Cool cookies completely, then drizzle the cinnamon glaze over the cookies with a fork.

To Make Glaze:

Combine confectioner's sugar, vanilla, and cinnamon. Add milk little by little until you reach your desired consistency. If the glaze is too loose, add more sugar. If it's too thick, add more milk.