Reindeer Cookies
by Danielle Venable
(Dublin, VA. USA)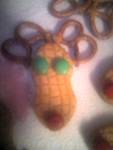 reindeer cookie for Christmas
This is a great recipe to make with children, and also a nice treat to send to school with them.


1 package of Nutter Butter peanut butter cookies
1 package of M&M's
1 package of semi-sweet chocolate morsels
1 bag of pretzels
Melt morsels by using a double boiler, or in microwave.
Take individual cookies, place two pretzels into the top of cookie (where peanut butter is). You may need to dip bottom of pretzel barely into chocolate before placing into cookie (for "glue"). This will be seen as the antlers.
Note: For these next steps a toothpick would be great to use for putting chocolate onto M&M's.
Next, place a small amount of melted chocolate onto two green M&M's and place on cookie just below antlers. These will be seen as the eyes of the reindeer.
Finally, place a small amount of chocolate onto a red M&M, and place the M&M onto the bottom of cookie, below the eyes in the rounded area of cookie. This will be seen as the nose.
Continue working on cookies and make as many as you would like.
Story Behind this Recipe:
My grandmother introduced me to these cookies when I was a young child. It has been a "tradition" ever since to make these cookies every year around Christmas time. I myself have brought these cookies to school and got a big hit from students and teachers alike. I love making these cookies with my family, and also showing them off to everyone. After 10 years of first seeing these cookies I still enjoy making them, and as always, I have never brought myself to eat them because they are absolutely too cute to eat.