Raisin Spice Bars
by Patricia Anne A. Villegas
(Philippines)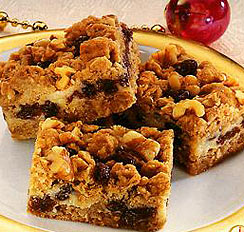 Make these yummy raisin spice bars for a snack any time of the year.


YIELD: 6 dozen bars 1 x 3 inches
INGREDIENTS:
1 pound 8 ounce pastry flour (750 g)
1/4 ounce baking soda (7 g)
1/4 ounce salt (7 g)
1/4 ounce cinnamon (7 g)
8 ounces butter margarine or shortening (250 g)
1 pound granulated sugar (500 g)
8 ounces brown sugar (250 g)
1 pound 8 ounces raisins (750 g)
*egg wash as needed
*confectioners' sugar as needed
DIRECTIONS:
1. If raisins are hard soak in hot water until soft. Drain and dry thoroughly.
2. Sift together flour, baking soda, salt, and cinnamon.
3. One-stage mixing method:
a. Place all ingredients in a mixer bowl and mix with paddle on low speed.
b. When partially combined, scrape down bowl.
c. Continue mixing until blended.
4. Bar makeup method:
a. Scale dough into four equal units. Chill thoroughly.
b. Form chilled dough into rolls as long as the width of a sheet pan. Space rolls evenly on a paper-lined pan.
c. Flatten each roll until about 3 inch (8 cm) wide.
5. Brush tops with egg wash.
6. Bake at 350F (180C) degrees until firm and lightly golden (about 12-15 minutes).
7. When cool, cut into 1 inch (2.5 cm) bars. Ice or dust with confectioners' sugar.