Pumpkin Caramel Walnut Ice Cream
by Tara
(Evergreen, CO, USA)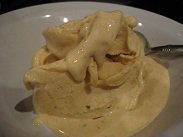 A super simple egg-free ice cream recipe your kids will love to whip up and then eat up!


2 cups heavy whipping cream
1 ½ cup 1% milk
14 ounce can of low fat sweetened condensed milk
1 cup pumpkin puree
about ¼ cup prepared caramel ice cream topping
3.4 ounce package of instant vanilla pudding and pie mix
¼ teaspoon ginger
½ teaspoon cinnamon
½ teaspoon nutmeg
1 teaspoon vanilla
1/8 teaspoon salt
1 to 1 ½ cup coarsely chopped walnuts
Combine all except walnuts in a bowl and whisk until pudding mix dissolves. Cover and chill thoroughly – 6 hours minimum.
Freeze in an ice cream maker. Add the walnuts during the last minutes of freeze time.
Enjoy!
Serving suggestions:
*Get a spoon!
*Press a Graham cracker crust in a spring-form pan. Spread the ice cream over the crust and freeze until firm. Dip the edges of the pan in hot water for a minute or two to loosen, remove from pan and serve. Decorate the top of the frozen pie like a spider web!