Peanut Twisted Chocolate Cake
by Alexandra Spens, Age 16
(Marlborough, Massachusetts, USA)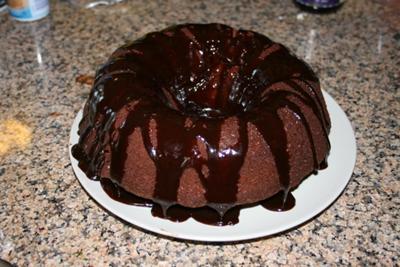 Chocolate Cake with a Peanut Twist
Hey, my name is Alexandra Spens and I'm 16 years old. I came up with this recipe one day when I was making an ordinary chocolate cake. I've always liked the combination of peanut and chocolate, and that's where it started.


½ cup real butter, softened
2 cups granulated sugar
4 ounces semi-sweet chocolate
2 large eggs, beaten
2 cups cake flour, sifted
2 teaspoons baking powder
1/4 teaspoon salt
1 cup milk
3 tablespoons creamy peanut butter
2 tablespoons peanut oil
1 teaspoon real vanilla extract
Instructions:
Preheat oven to 350F (180C) degrees. Cream the butter and sugar together in a large mixing bowl. Melt chocolate in microwave or in a double boiler. Stir in chocolate and the beaten eggs.
In a separate bowl, combine the flour, baking powder, salt, vanilla, and milk. Pour it into the first mixture, and then add peanut butter and peanut oil. Beat for approximately three minutes.
Grease a bundt cake pan and pour mixture into pan, place in the oven for 45 minutes or until done. Let the cake cool.
Cake can be served with your favorite icing, but my personal favorite icing for this would be a chocolate, peanut or vanilla icing.
My Icing Recipe:
1 cup sugar
6 tablespoons corn starch
4 tablespoons cocoa
1/2 teaspoon salt
2 tablespoons peanut oil
1 cup water
1/2 teaspoon vanilla
Mix sugar, cornstarch, salt, and cocoa in a medium sauce pan. Pour in the water. Heat over medium until it gets thick and starts to boil. Boil for 1-2 minutes. Remove from heat and stir in oil and vanilla.