Patriotic Delight
by Katie
(Forest Hill, Maryand, USA)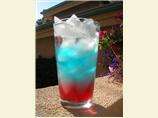 Here's your final outcome!
Try this red, white and blue drink.


Ingredients:
Cubed Ice
Sprite (lite)
Cranberry Juice
Dark Blue Gatorade
Gather all materials. Next, you will put a few pieces of whole ice in you cup filling it about a little over a half of the way full. Then, you start by pouring 1/3 of the cup full with Cranberry juice. And then 1/3 full on top of the cranberry juice using the Gatorade. Lastly, you add the lite Sprite to the top filling it to the rim. Now you have a wonderful patriotic drink for the 4th of July, or even just for fun! But beware, it's delicious!!!! :)
*TIP: Using lite Sprite helps it stay in the right order for its colors so they all don't mix together right away. But, after a few sips, it may begin to mix all together, and taste better after it mixes.