Orange Pumpkin Cheese Ball
by Deborah
(Lilburn, Georgia, USA)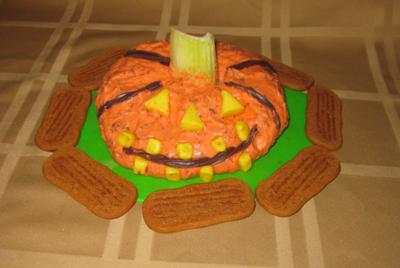 Orange Pumpkin Cheese Ball served with ginger snaps
This is a recipe my kids used to make for their friends when they were younger. It has evolved over the years with different flavors and has been changed to fit other holidays - this version is Halloween. They always treated it as dessert and not an appetizer.


2 (8 ounce) packages cream cheese (do not use low fat)
1 (3 ounce) package vanilla cook & serve pudding & pie filling mix (not instant or sugar free)
¾ cup sifted confectioner's sugar
1 tablespoon orange zest
4 teaspoons orange flavoring
Orange powdered food coloring (can be purchased at craft stores)
1/3 cup mini milk chocolate chips, chopped
2 chocolate flavored twisted rope candy
6 yellow fruit flavored candy squares
One third of a stalk of celery
Ginger snaps
In a large bowl, stir together the cream cheese, pudding mix, sugar, zest, and flavoring. Stir in the powdered food coloring gradually until desired pumpkin color is reached. Fold in chocolate chips. Shape into a ball and place on serving plate and chill.
Cut the rope candy into thinner pieces lengthwise with kitchen scissors. Cut the yellow candy squares into three triangles for the eyes and nose and the remainder cut into small squares for teeth. Cut the length of the rope candy to fit to make ribs for the pumpkin and the mouth and push into the pumpkin. Push the eyes, nose, and teeth in the pumpkin. Push the celery stalk into the center for a stem. Serve with ginger snaps.