Noodles, Peas & Bacon
by Laney
(Mayo Lake, NC, USA)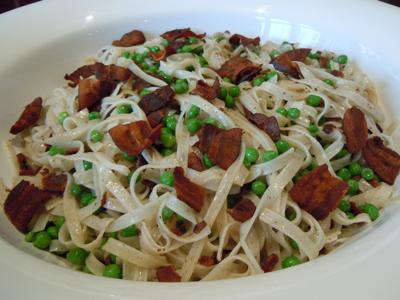 My mom's family has made this recipe for years and my brother and all my cousins love it, too (I'm 12). You can use any type of noodle, but I think Asian noodles work great!


1 pound bacon
1 13-ounce package Asian noodles
1 pound frozen peas
2 tablespoons olive oil
1 teaspoon fresh ground black pepper
salt to taste
Cut bacon with kitchen scissors into about 2" pieces, cutting through several pieces at the same time. Separate the pieces and cook in deep pot until very crisp. Remove bacon to a paper towel lined plate. Carefully pour hot grease out of deep pan, leaving a little grease but all of the "bacon crispies" in the pot.
In a separate pot, boil noodles according to directions on box. Add the bag of frozen peas to boiling noodles during last minute. Drain well.
Add cooked noodles and peas to bacon pot. Add olive oil, pepper and then salt to taste. Stir gently, making sure you scrape the bacon crispies off of the bottom of the pot, then add cooked bacon pieces.
Enjoy!