Noodle Poodle Pies
by Rachel Upton
(New Zealand)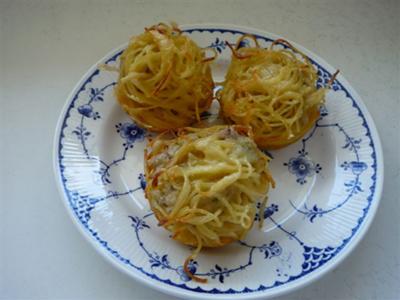 NOODLE POODLE PIES
Little NOODLE POODLE PIES with a noodle crust and mushroom filling.


NOODLE CRUST
250 grams (about 8-9 ounces) vermicelli, cooked
25 grams (about 2 tablespoons) butter
1/2 cup grated cheese
1 egg, beaten
salt and pepper
Melt butter, add cooked noodles, then stir through cheese and egg. Twirl noodles around fork and fill 12-hole greased muffin tin. Bake at 180 C degree (350F) for about 25 minutes - til crispy.
FILLING
6 button mushrooms, finely chopped
Chopped parsley
125 grams (about 1/2 cup) sour cream
1 egg yolk, beaten
1 teaspoon flour
1/2 cup grated cheese
knob of butter
1 teaspoon mushroom soup powder
1/4 onion, finely chopped
In saucepan cook mushrooms and onion in the butter and parsley, then flour. Stir in sour cream, cheese, egg yolk and soup powder til nice and creamy.
When the noodle crust is crispy, remove from oven and let cool. When cool use a knife to take the top off each pie. Then spoon in some of the mushroom filling and put noodle tops back on top. Sprinkle with a little more cheese and return to
oven for about 5 more minutes.
Filling can be changed. If you like different flavors, add chopped chicken, chives or different soup flavors.