Mung Bean Surprise
by Annie
(Emden, Il, USA)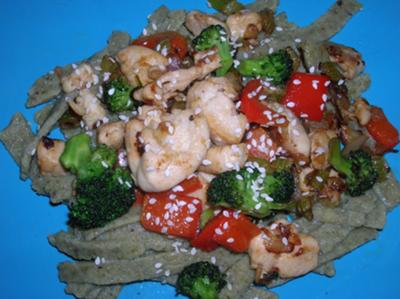 Nutrient Powerhouse!

Who knew beans could taste this good? Mung bean noodles are a great way to start your year off right. They are loaded with vitamins B,C,E and high in calcium and magnesium.




We mill our own mung bean flour from the beans themselves which can be found at health food stores. If you don't have a mill or food processor, noodles can be purchased at your local grocery store in the Asian food aisle. These mung bean noodles are very versatile and can be topped with just about anything. ENJOY!

Mung Bean Noodles:

1 cup mung bean flour
1/3 cup cornstarch
1/2 teaspoon salt
2 tablespoons vegetable oil
2 eggs, lightly beaten

Put dry ingredients in bowl. Make a well in the center. Add oil and eggs. Knead dough into smooth ball with your hands.

Roll out as thin as possible. Cut noodles into long strips. Noodles maybe frozen for later use or cooked up in boiling salt water for 10 minutes.

Chicken Topping Delight:

3 chicken breast, chopped
1 large onion, chopped
6 cloves garlic, chopped
2 stalks celery,chopped
1/2 red pepper,chopped
1 broccoli head cut into bite size pieces

In oiled pan, saute chicken 5 minutes. Add chopped onion, garlic, celery. Saute until onion are translucent. Add red pepper and broccoli and saute another 3 minutes.

Put chicken topping delight on top of mung bean noodles and serve.

WARNING: ***Due to the wonderful aroma of this dish, no one will be late to the supper table.