Mud Pie
by Ashwene
(London, England)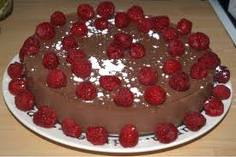 chocolate mud pie with raspberries
An easy refrigerator chocolate mud pie covered with fresh raspberries.


150 grams (2/3 cup) unsalted butter
10 tablespoons icing (confectioner's) sugar
2 tablespoons cocoa powder
1 cup broken biscuits/cookies
1 cup dry fruit
1 bar of melted chocolate
fresh berries
Melt the butter in a pan. Add the sugar and cocoa powder, mix with a wooden spoon. Turn off the heat and pour the mixture into a bowl and add in the fruit and biscuits. Cover a baking tray with foil and apply butter. Spoon in the mixture. Put in the fridge for 3 hours. Carefully, lift the foil out of the baking tray.
Top the mud pie with your melted chocolate and berries and enjoy!