Monster Cookies
by Paige Maupin
(Texas, USA)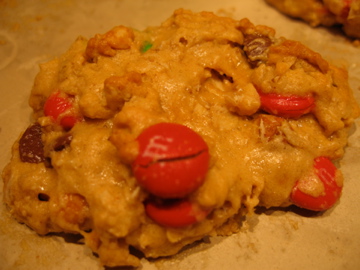 My brother-in-law gives these to us every year for Christmas. His mom made them for him when he was little until she passed away. Ever since, these cookies have become a Christmas tradition.


Ingredients:
1 cup butter
2 cups white sugar
1 pound brown sugar (2 ¼ c)
1 ½ teaspoons vanilla
6 eggs
4 teaspoons baking soda
3 cups peanut butter
1 pound M&M's
12 ounces chocolate chips (1 ¼ c)
2 tablespoons Karo syrup
(optional: you can use 12 ounces of any other flavor of M&M's and/or Chocolate Chips)
9 cups oatmeal
What To Do:
1. Preheat oven to 325-350F (170C).
2. Cream the butter and sugars.
3. Add vanilla, eggs, baking soda, and peanut butter. Mix well.
4. At this point you should probably transfer the dough to a bigger pot.
5. Add M&M's, chocolate chips, and syrup and mix well.
6. Add in oatmeal 3 cups at a time.
7. Bake for 10 minutes.