Mock Pumpkin Soup
by Gail
(Portland, OR, USA)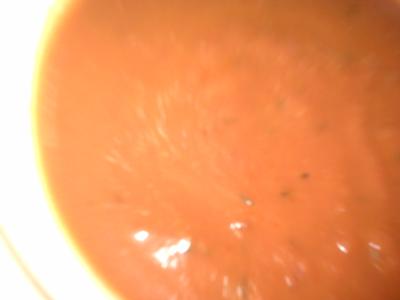 Mock Pumpkin Soup
This recipe changes a bit from year to year based on the available ingredients at my brother's house in Georgia. He is an avid fireworks and rocketing buff. Usually we buy some pumpkins for blowing up and some for cooking. He invariably blows up the pumpkins on his 40 acre property before I get a chance to use them in a soup or pie. I end up making soup from canned yams, and whatever winter squash my sister-in-law has on hand.


Mock Pumpkin Soup Recipe
Makes: 16 servings
Ingredients:
3 onions, chopped
1/4 cup olive oil
1 40 ounce can of candied yams, undrained
2 large acorn squash
8 cups chicken broth
1 tablespoon basil
1 teaspoon thyme
1 tablespoon pumpkin pie spice
1 teaspoon salt
pepper to taste
Cut open the acorn squash and scoop out seeds. Microwave until soft. Let cool and remove the skin.
Dump can of yams including liquid into large mixing bowl. Mash with acorn squash. Set aside.
Saute onions in olive oil.
Put all ingredients in large soup pot and simmer at least 20 minutes.
Soup can be left chunky as a rustic soup or put into blender and pureed to make a smooth, refined consistency.
Serve as first course at Thanksgiving dinner.