Menehune Meringues
by Candace
(Maui, Hawaii)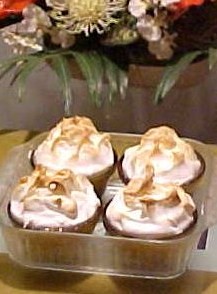 delicious Easter meringues
Menehunes are similar to leprechauns, but they live in Hawaii. They supposedly live off the land, as we can do too here in Hawaii. Easter for us means strawberries and lemons fresh from the garden, and coconut is always available too. This is a sunny, easy-to-make dish that the kids can help make, and it makes the most of eggs. Happy Easter!!


Ingredients:
3 large eggs, separated
1 (10-ounce) can low-fat sweetened condensed milk
1/2 cup lemon juice
1 tablespoon lemon zest
6 tablespoons shredded unsweetened coconut
2 cups sliced fresh strawberries
4 teaspoons finely chopped fresh mint leaves
1/4 teaspoon cream of tartar
1/4 cup granulated sugar
Preheat oven to 325F (160C) degrees. Lightly grease or coat with non-stick cooking spray four 6-ounce ramekins or custard cups.
In a medium mixing bowl, beat egg yolks well. Whisk in condensed milk, lemon juice, zest and coconut. Divide evenly among ramekins. Bake 25 minutes.
Remove from oven and turn oven up to 350F (180C) degrees. Place sliced strawberries over tops of ramekins and sprinkle 1 teaspoon mint over each.
In a small mixing bowl, beat egg whites and cream of tartar together. Add sugar slowly, beating after every addition, until stiff but not dry peaks form. Spread meringue over entire tops of ramekins.
Return to oven and bake 10 minutes or until meringue is golden almost all over. Cool at room temperature, then refrigerate until time of service.
Makes 4.