Made for My Daddy Beef Stew
by Kim Pyron
(Atlanta , Georgia, US)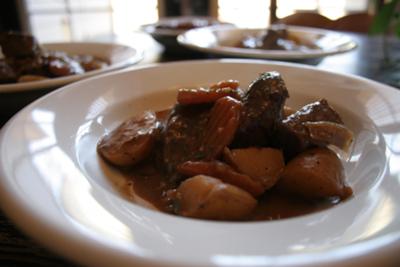 Hearty Beef Stew served in a man-sized bowl!

Try this hearty and heartwarming beef stew (and read the story below about this recipe!).



Ingredients:

2 pounds rump roast (room temp.) cut into 2-inch cubes and dried well with paper towels

1 Tablespoon vegetable oil

1 medium yellow onion

2 Tablespoon flour

2 cups beef broth (I prefer Kitchen Basics, but any kind will work)

1 cup red wine

1 teaspoon salt or a pinch more

1 Tablespoon tomato paste

3 cloves garlic peeled and smashed with the back of your knife

2 bay leaves

1 teaspoon thyme

1 cup crinkle cut carrot slices

1 pound Dutch baby potatoes or any other small potatoes, cut in half

2 Tablespoons cream

Fresh flat leaf parsley (to sprinkle on the top, optional)

Directions:

Pre-heat oven to 450F degrees. Heat oil in an oven proof pot, Dutch oven or large casserole dish. Brown meat a few pieces at a time until all sides have a deep rich color and set aside.

Add onion and small amount of broth. Stir for about 2 minutes, scraping up all the nice bits of flavor stuck to the bottom of pan. Toss the meat in four and return to pot.

Add broth, wine, salt and tomato paste to almost cover with the liquid (but don't over fill - it isn't going swimming).

Cover and put pot in oven for 5 minutes. Stir and return for 5 minutes more. Add bay leaves, thyme, and garlic. Turn the oven down to 325F degrees. Cook for 2 hours (stir a few times) then add carrots and potatoes.

Cook for 1 to 1 1/2 hours more or until the meat is fork tender. Stir in cream and check seasoning (it may need more salt) then spoon into a man sized bowl. Sprinkle with parsley and serve with lots of crusty bread to soak up all that yummy sauce.

The Story Behind this Recipe:Sometimes along the

way we all want or perhaps, need a hug or a warm blanket. Sometimes along the way we all want or need, whether we admit it or not, something that tastes and smells like home - home the way your mamma made it..or in this case the way my daddy did. When I was growing up my father didn't dare trespass onto the hollowed linoleum floors of our small kitchen. If he did dare, it would be because he was hunting a late night snack. Hidden in the darkness, armed with a glass of milk and lit only by the dim glow of the Frigidaire, he would rush in like he was storming the beaches at Normandy. He would dash back out holding his chocolate chip cookie or leftover drum stick like a 1st place trophy. My dad had made it out of the kitchen and had a prize to show for it.

The kitchen, that sacred inter sanctum was my mother's. Period. It was not to be entered with out invitation. But, twice a year my mom went to visit her sister in Memphis and for two weeks a year, I messed up the pots, stirred sauces, and made dinner with my dad. It was an exciting time that I looked forward to as much as my friends looked forward to Christmas presents or Halloween candy.

My dad never wrote down any of his recipes, but I remember them all or at least my version of them. Over the past 10 years that I've been cooking with my kids…and yes, they are in the kitchen with me. I've tried to re-create some of the simple things he made. Nothing fancy, but hearty heartwarming foods. So when I need a hug, or a warm blanket or just something that tastes like home. I call my kids and husband to the kitchen where we all make dinner together.