Mac & Cheese With A Twist
by Madison N.
(USA)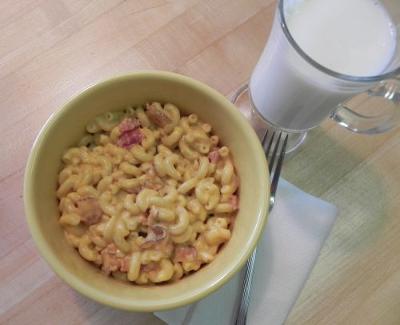 Macaroni and cheese with crumbled bacon on top.
1 cup elbow macaroni pasta
1/4 cup cheese sauce (such as Ragu Double Cheddar)
2 strips of bacon
salt and pepper to taste
1. In a medium pot bring 2 cups of water to a boil. When the water is boiled salt the water with a good handful of salt.
2. When the boiling water is salted add 1 cup of elbow macaroni, and follow the instructions for cooking time.
3. While the pasta is cooking heat up the cheese sauce in a bowl (with a paper towel cover the top). Heat it in the microwave for 45 seconds or until warm.
4. Stir pasta occasionally.
5. When pasta is done drain it.
6. Heat the 2 strips of bacon in the microwave for 65 seconds or until crispy.
7. Put the pasta back into the pot or onto a large serving platter.
8. Put the cheese sauce into the pot or the large serving platter.
9. Then crumble the crunchy bacon on top.
10. Add salt and pepper to taste.