Little Monster Masquerade
by Erin
(Hanover, Pa, USA )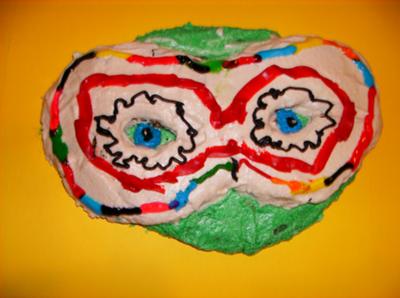 Little Green Monster Cookie with Masquerade Mask
This a recipe I made to share with my family. I have a big family. I am the youngest of six children so I made a big cookie for my big family. You can serve this for Halloween, birthdays, or just for fun.


Little Monster Masquerade Recipe
Ingredients:
1 16 ½ ounce package Nestle Chocolate Chip Cookie Dough
Icing mix:
3 ¾ confectioner's sugar
½ cup of butter or margarine softened
3-4 tablespoons milk
1 teaspoon vanilla extract
2-3 drops of green food coloring
An assortment of colored decorating icing tubes
Instructions:
Preheat oven to 375F (190C) degrees.
Use half of the dough to form a 9 inch circle by ½ inch thick. Place on cookie sheet.
Use remaining dough to form a mask shape. Place on a separate cookie sheet. Bake for 10-12 minutes.
Leave on a cookie sheet to cool. While the cookie is still a little warm use a knife to cut eye holes on the mask. While it is baking, start on white icing mix.
Mix the confectioner's sugar, butter (or margarine), 3-4 tablespoons milk, 1 teaspoon vanilla extract. Beat with mixer until thoroughly mixed. Make sure that both cookies are completely cool, then separate icing mix.
Put half icing mixture into a bowl. Then put 2-3 drops of the green food coloring. Mix until all green. Put on the mask cookie. Spread and make it even.
Put white icing on the round cookie, make it even. Carefully put the mask on top of the round cookie. Then decorate the mask as you wish. Then enjoy!!! :)