Lily's Festive Three C's Cookies
by Lily Phipps
(Essex.MA, USA)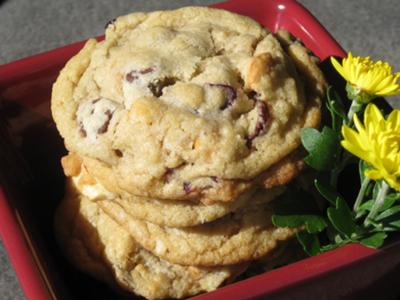 3 C's Cookies (cashews, chocolate and cranberries)
Hi. My name is Lily and I will be 10 years old on Christmas Day. I love to bake with my Mom and have started baking on my own in the last few years too. I came up with this yummy recipe sort of by accident. We needed more holiday cookies to ship out to friends but were low on baking ingredients--and that's how I put cashews, chocolate and cranberries in to one cookie. Try them--they are so tasty!


2 cups all purpose flour
1 teaspoon kosher salt
3/4 teaspoon baking soda
1/2 cup butter flavored shortening
1/4 cup butter
1 1/2 cups light brown sugar
1 tablespoon vanilla extract
1 tablespoon milk
1 egg
1 cup semisweet chocolate chips
1/2 cup dried cranberries
1/2 cup cashews
Preheat oven to 350F (180C) degrees. Put silicone baking mats on three cookie sheets.
In a medium bowl, sift together flour, kosher salt and baking soda.
In a large bowl, beat together shortening, butter, brown sugar, egg, vanilla and milk until light and fluffy.
Turn mixer to low speed and beat in dry ingredients. When mixed, add chocolate chips, cranberries and cashews and mix until combined.
Using a medium ice cream scoop, dish out cookie dough on to prepared pan, 12 to a sheet.
Bake for 10-12 minutes until edges are lightly browned.
Makes 2 1/2 dozen cookies.