Janet's Cashew, Pretzel, White Chocolate Chip Cookies
by Janet Tomko
(Denver, PA, USA)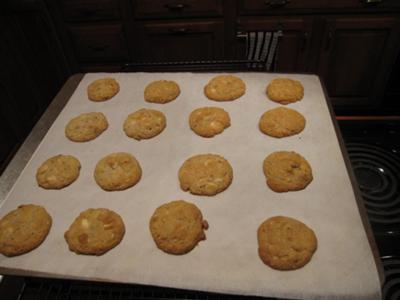 Ready to cool.
These cookies combine the sweetness of white chocolate chips and the saltiness and crunchiness of pretzels and cashews.


Ingredients:
1/2 cup sugar
1/4 cup brown sugar
1/2 cup unsalted butter (softened)
1 egg
1 teaspoon vanilla
1 1/4 cup flour
1/2 teaspoon baking soda
1/4 teaspoon cream of tarter
1/4 teaspoon salt
3/4 cup chopped cashews
1/2 cup crushed small pretzel sticks
1 cup white chocolate chips
Directions:
Heat oven to 350F (180C) degrees. In separate bowl mix the flour, baking soda, salt, and cream of tarter. Cream the sugars and butter until fully incorporated. Add egg and vanilla.
Gradually add the flour mixture, mixing well. Add the chopped cashews and crushed pretzels. Fold in the white chocolate chips.
Line cookie sheets with parchment paper. Place one tablespoon of cookie dough 2 inches apart. Bake at 350 degrees for 9-11 minutes. Remove when they are lightly brown. Cool on baking sheet one minute before removing. Enjoy!
Yield: approximately 48 cookies.