Jack-o-Lantern Pudding
by Alisa
(Rhode Island, U.S.A.)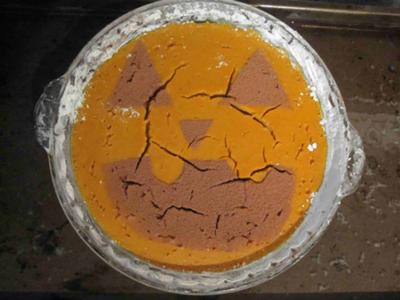 I love custard pudding. I added pumpkin to my mom's original custard pudding recipe. I hope you like it!


300 grams (10 ounces) canned pumpkin
90 grams (1/3 cup + 2 tablespoons) sugar
3 eggs
200 ml (3/4 cup + 1 tablespoon) milk
4 tablespoons flour
50 grams (5 tablespoons) unsalted butter
cinnamon (as much as you want)
cocoa powder (as much as you want)
1. Put butter in a microwavable cup and microwave it until it melts.
2. Put all the ingredients including the melted butter into a food mixer.
3.Pour the mixed batter into a glass baking plate. (9 1/2 inch diameter)
4. Bake at 335F (170C) degrees for 45 minutes.
5. Cut a jack-o-lantern face out of paper and sprinkle cocoa powder on the top of the paper on the pudding for a cool Halloween effect.