Indoor S'mores Puffs
by Lisa Patrin
(Chanhassen, MN USA)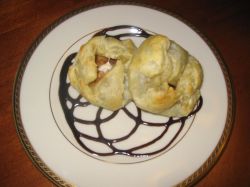 Indoor S'mores Puffs with chocolate sauce
I came up with this recipe for my kids on a rainy Minnesota weekend. We love s'mores and created an indoor version using puff pastry, chocolate chips, graham crackers and marshmallows. These are so warm and gooey, it almost makes up for the fact that they are not made over a campfire.


Ingredients:
nonstick cooking spray
1 17.3 ounce package Pepperidge Farm Puff Pastry sheets, thawed*
8 whole graham crackers, crushed (either use a food processor or place in a resealable bag and use a rolling pin to crush)
12 Hershey's Special Dark Chocolate Candy Kisses, unwrapped (substitute with 4-5 chocolate chips per s'more if you do not have candy Kisses)
1 cup mini marshmallows
Small bowl with water (and a pastry brush)
1 large egg, lightly beaten
2 tablespoons granulated sugar
1/4 cup of your favorite chocolate sauce
Directions:
Preheat oven to 400F (200C) degrees. Thaw pastry sheets for 30-40 minutes at room temperature or until easy to handle. Make sure the puff pastry does not become too warm or soft, this will make it sticky and hard to roll. Line baking sheet with aluminum foil and spray lightly with cooking spray.
Unfold one pastry sheet onto a lightly floured surface. Cut pastry sheet in half lengthwise. Roll each half into a 15 X 5 inch rectangle. Cut each rolled rectangle to make 3 (approximately 5 inch) squares. Repeat with the remaining pastry sheet. (You will have 12 total when finished with both sheets).
Place 1 tablespoon of crushed graham cracker in the center of each square. Place 1 Hershey Kiss and 3 mini marshmallows on top of the graham cracker crumbs. Lightly brush around the edges of the puff pastry square with the water and fold all corners up into the center. Pinch and twist gently to seal all edges. Repeat with all of the puff pastry squares. Place on the foil lined baking sheet, spaced approximately 2 inches apart. Brush tops of each puff with egg wash. Sprinkle a large pinch of granulated sugar over each puff.
Place in the oven and bake for 18-20 minutes or until edges are golden brown. Watch carefully as oven temperatures may vary. Remove from oven and cool slightly. Drizzle chocolate sauce on individual plates (as shown above). Serve warm.
*Each package contains 2 sheets (enough for one recipe).
Serves 12.
~Enjoy!