Icy Alfalfa Cubes for Horses
by Laura
(United States)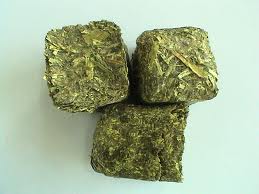 This is a great recipe for your horse. Try it!


Alfalfa, strands
Rubber band(s)
Put strands of alfalfa in a cube and wrap rubber bands around it so it doesn't unwrap. Then put them in a freezer for 2-3 days until frozen. Take rubber bands off and feed to horses!!
Join in and write your own page! It's easy to do. How? Simply click here to return to Submit your Favorite Recipe.