Homemade Fried Wontons with Sweet and Sour Dipping Sauce
by Jennifer
(Columbia, Maryland, USA)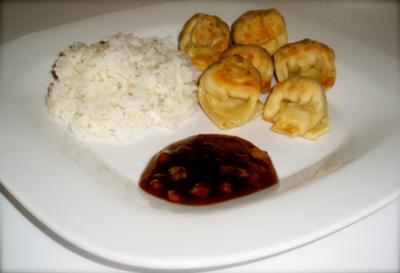 Homemade and Fabulous!

Looking for a fast and easy "made-from-scratch" Asian creation for dinner tonight? This recipe is super easy, delicious, and serves a family of 4 nicely! Compared to all the dough recipes I have rolled out in my life, this dough recipe is by far the easiest.




Making homemade noodles without horribly struggling with your rolling pin… what more could you ask for? And what's a homemade fried wonton without some homemade sweet and sour to dip it in? I highly recommend serving this meal with some steamed rice. The sweet and sour sauce mixed in with steamed rice is absolutely delicious. Everyone asks for second helpings! Enjoy.

Wonton Wrappers:

1 cup flour
½ teaspoon salt
1 egg yolk
2-4 tablespoons water, cold
Cornstarch - for rolling out dough

In a large bowl, mix flour and salt together and make a well in the center. Separate the egg yolk and whisk together the egg yolk with 2 tablespooons water. Reserve the egg white for later use. Pour egg yolk mixture into flour well and mix together to form dough. Add additional 2 tablespoons of water 1 tablespoon at a time.

Knead dough by hand inside bowl to form a ball. Knead dough on lightly floured surface until dough is smooth. The dough should spring back after you lightly press your finger into the dough ball, otherwise continue kneading. Wrap dough in plastic wrap and let sit at room temperature for 60 minutes or longer.

Roll the dough as thinly as you can on a surface lightly coated with cornstarch, flipping the dough occasionally. Cut the dough into 4 inch squares. Depending on how thinly you were able to roll out the dough, you should be able to get approximately 18 wrappers.

Wonton Filling:

Extra virgin olive oil- for frying
1¼ cup ground

pork

¾ teaspoon onion salt

¾ teaspoon black pepper

3 tablespoons soy sauce

1 egg white

In a skillet, heat one tablespoon oil over medium heat. Add ground pork and cook until browned. Sprinkle pork with onion salt and black pepper, then mix. When cooked thoroughly, strain pork well and place pork in small bowl. Add soy sauce. Mix well.

Place about 1 tablespoon of pork mixture in the center of each wonton wrapper. Use a basting brush or your finger to brush egg white, reserved from making wonton wrappers, along the top and bottom edge of wonton wrapper. Fold wrapper over pork mixture, folding wrapper in half, and seal top and bottom edges together by pressing lightly. Pressing gently next to the pork mixture to keep the pork mixture in the middle of the wrapper, fold the wrapper in half again. Then pull the sides of the wrapper together. Brush a little egg white on the ends of the sides and seal the sides together one on top of the other. Repeat until all the wontons are assembled.

Over medium heat, pour enough olive oil into a skillet to coat the bottom. When oil is hot, fry wontons until lightly brown on both sides, about 3-4 minutes per side. Serve with homemade Sweet and Sour Dipping Sauce.

Sweet and Sour Dipping Sauce:

½ cup white sugar

¼ cup honey

2/3 cup water

1/3 cup white vinegar

1/3 cup soy sauce

¼ cup pineapple, finely chopped or ¼ cup canned crushed pineapple

2 tablespoons ketchup

4 tablespoons cornstarch

Combine all ingredients in a medium saucepan. Over medium-high heat, bring mixture to boil. When boiling, stir continuously until mixture begins to thicken. Reduce heat and simmer for about 5 minutes stirring occasionally. Remove from heat and let cool to room temperature before serving.