Healthy Pumpkin Almond Butter Brownies
by Mari Smith
(Ashburn, VA, USA)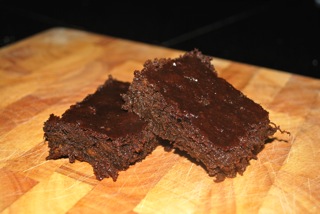 This recipe can be used as a healthy option for brownies or a great breakfast to start the day! We absolutely love this and make it all the time and have some in the fridge for a healthy snack in a pinch. My son Max ask for this all the time, "Mommy- cake please!"


Ingredients:
1 cup almond butter
3/4 cup mashed pumpkin or other squash (get creative!)
1 egg
1/4 cup honey
3 tablespoons molasses (blackstrap if available)
1 teaspoon baking soda
1/2 teaspoon cinnamon
1/2 teaspoon allspice
If using fresh pumpkin or squash, cut into cubes and boil until soft. Mash in a separate bowl. Canned pumpkin or squash is also an option.
Combine all ingredients into a bowl and mix until well incorporated. Pour into an 8 x 8" greased pan. Bake at 350F (180C) degrees for about 20-25 minutes, or until a toothpick inserted comes out clean.