Hamster Easy Salad
by Ramsamy Cavisen
(Mauritius)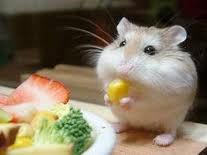 hamster eating salad
Give this easy salad for your hamster to eat.


Ingredients:
some grains of peanuts
half carrot
some pieces of cucumber
one ladyfinger banana
2 leaves of lettuces
2 leaves of cabbages
a small piece of beetroot (optional)
a small piece of cheese
5 leaves of watercress (optional)
some pieces of cauliflower
some pieces of broccoli
2 table spoon full of yogurt (not sugar free) (optional)
METHOD:***
Wash all the vegetables (it is good for your hamster).
Cut the carrot and cucumber in small pieces.
Cut the ladyfinger into very small pieces.
Cut the lettuces and cabbages very small.
Also cut the broccoli and beetroot.
Cut the cheese into small pieces.
Then put all the vegetables with the others.
Add the watercress leaves, then the small piece of cheese with other things.
Mix them together.
Then add the yogurt for good taste.