Halloween Oreo Pumpkin Cheesecakes
by Lauren Brennan
(Hood River, OR, USA)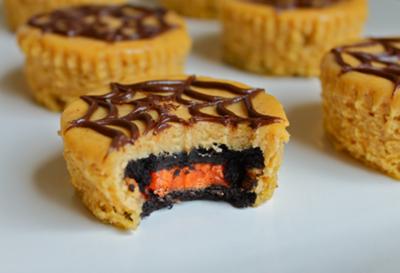 Halloween Oreo Pumpkin Cheesecakes
I made this recipe up for a Halloween party. I wanted to make something delicious and fancy, but still easy and inexpensive, so this was the result from that! The crust or bottom of these cheesecakes is simply just a Halloween Oreo dropped into the bottom of a paper lined muffin tin. Then you mix up the cheesecake mixture, pour over the top and bake. This is a very kid friendly recipe that kids and adults will love. To make these Cheesecakes extra special, I melted some chocolate chips and designed a spiderweb on top.


Yield: 12 individual cheesecakes
Ingredients:
1 8-ounce package cream cheese, softened
1/2 cup granulated sugar
1/2 teaspoon vanilla extract
1/2 cup pureed pumpkin
1 egg
1/4 teaspoon cinnamon
1/8 teaspoon nutmeg
2 tablespoons all purpose flour
pinch of salt
12 Halloween Oreo cookies
1/2 cup chocolate chips (optional)
Directions:
Preheat oven to 325F (160C) degrees. Line 12 muffin tins with paper liners. Place 1 Oreo cookie in the bottom of each muffin tin. Set aside.
In large bowl, whip cream cheese and sugar together until smooth. Stir in vanilla, pumpkin, egg, cinnamon, nutmeg, flour and salt until combined. Scrape sides of bowl and whip mixture until completely smooth. Spoon mixture evenly over Oreos.
Bake 20-25 minutes or until cheesecakes have set. Remove from oven to cool. Once cheesecakes are cool enough to handle, remove from muffin tin. Remove paper wrappers.
Microwave chocolate chips until smooth and completely melted. Spoon chocolate into a piping bag with a small round tip. Pipe melted chocolate in concentric circles on top of cheesecakes. Drag the end of a toothpick through the chocolate to create a spiders web look. Repeat with remaining cheesecakes. Refrigerate until ready to serve.