Grilled Agave Pumpkin Bruschetta with Havarti and Figs
by Amie
(New York, NY, USA)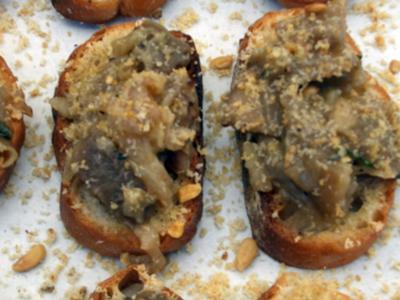 Grilled Agave Pumpkin Bruschetta with Havarti and Figs
This is a gourmet snack that everyone will enjoy. Soft and crunchy, sweet and savory. The subtle sweetness of the agave, pumpkin, and figs perfectly compliments the Havarti cheese and caramelized onions.


Ingredients:
8 slices crusty, hearty bread
2 tablespoons olive oil
2 cups canned pumpkin
1 8-ounce piece Havarti cheese, cut into 8 slices
10 ripe fresh figs, stemmed, quartered lengthwise
2 tablespoons agave nectar
1 teaspoon vanilla extract
½ teaspoon ground cinnamon
Sea salt and freshly ground white pepper
Roasted pumpkin seeds
Caramelized onions
Directions:
Prepare grill on medium-high heat. Brush both sides of bread with oil.
Place bread slices directly on grill. Grill bread until grill marks appear. Turn bread slices over and continue to grill.
Coat each piece of bread with pumpkin. Place 1 cheese slice atop each bread slice; close barbecue and grill bread until cheese melts.
Transfer bread to work surface; cut each slice into 4 pieces. Top each piece with fig slice.
In a small bowl, combine agave and vanilla. Drizzle bread lightly with agave mixture and sprinkle lightly with cinnamon, sea salt and pepper. Top with a few roasted pumpkin seeds and caramelized onions. Transfer to platter and serve.
Enjoy!