Gourmet Jalapeño Bagel
by Rany
(California, USA)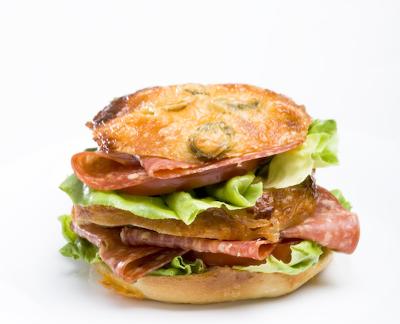 This healthy and delicious gourmet bagel can be prepared the night before for lunch the next day. Place into a wax sandwich bag available at your local grocers.


Ingredients:
1 gourmet jalapeño bagel (or substitute a plain bagel)
6 thin slices of organic salami
organic butter, room temperature (or alternative spread)
2 squirts of organic honey mustard
2 large organic leaves of lettuce, washed and dried
1 large heirloom tomato, washed, dried and sliced
4 slices of organic bread and butter pickles
Method:
1. Towards the base of the bagel, using a serrated knife cut along side.
2. Towards the top of the bagel using the serrated knife cut along side again creating a lid as per image above.
3. Using a butter knife spread butter thinly on each cut layer of bagel. Organic butter to spread on to the bagel must be room temperature, soft, and easy to spread thinly.
4. Squirt honey mustard directly on the buttered sides of the bagel and then spread out.
5. Place lettuce onto the bottom half of the buttered bagel.
6. Top with sliced tomatoes and two of the pickles.
7. On top of the salad lay three slices of salami, keeping aside the other three slices of salami for the next layer.
8. Place the second half of the bagel on top of the base and repeat the method process as above.
9. Top with the lid.
Enjoy your healthy bagel sandwich!